With spring just around the corner, talking about the Hydrangea Flower seems only perfect!
Produced in early spring (and late autumn) this flower contains two flower arrangements in the flower. A mophead that contains large round flowerheads resembling pom-poms and lacecap flowers that are flat flowerheads in the core.
The home of this gorgeous flower is Eastern Asia (China, Japan, Korea, the Himalaya and Indonesia) It is known to be one of the most diverse flower in Eastern Asia. It can from the size of a shrub, 1-3 meters tall to a small tree, almost 98ft tall!
This flower has recently become one of the more popular choices for wedding decor. Generally this flower is most often white, however some have been known to flourish into blue, red, pink, light purple or dark purple. The color is determined by the level of acidity in the soil. A pH below 6 produces a blue flowers, where as above 6, pink.
Below is the new Easter Bouquet for What A Bloom and a picture of a wedding centerpiece put together by What A Bloom Events.
Send any and all blog request or questions to molly@whatabloom.com
Stay connected for more fun facts! Facebook, Twitter, Instagram, Pinterest and Tumblr
Love and flowers,
What A Bloom Blog
Photo Credit to: Micheal Fantauzzi, Events by Carlo and Posh Stylings
Did you know that the very first
Christmas Tree
was established in 1441 and decorated with sweets for all the children. After the celebrations took place and the trees where brought to the town square and danced around then set on fire. The first Christmas Tree to be introduced to Canada was in 1781 by Brunswick soldiers stationed in the Province of Quebec, decorated with candles and fruit. It wasn't until the 1965 Christmas Classic A Charlie Brown Christmas was released that the Christmas Tree became a commercialized symbol, now used in homes across the world.Did you know that the smallest Pine Tree is measured at 3 meter's in height which is called the Siberian Dwarf Pine. While the largest is 268.35-foot (81.79-meter) tall and called the Ponderosa Pine.We have a variety of Christmas Arrangements that include pine; wreaths, bouquet's, mini trees and so much more. The smell of pine definitely gives off that unique smell of Christmas, often used in house hold cleaning products and air fresheners.For more blogs follow us on Tumblr at
what-a-bloom.tumblr.com
Life is better with flowers!
I have been seeing these little red buds all over the Flower Shop. They would definitely be the perfect addition to any bouquet or wreath for the Holiday Season!!!
The Hypericum Berry is also called "toute saine" literally meaning all-healthy. The leaves where once used as a healing aid to all wounds. However the berries which turn from white/green, to red, to black are poisonous.
These berries come in an assortment of colors. Hypericum berries of pink, yellow and orange shades are often used in a variety of floral arrangements to compliment the blooms used as a main focal point. Florists love to add these berries to bridal bouquets, as well as fall themed bouquets. Each stem has approximately 10-15 berries for every stem. They are long lasting and colorful – so next time you place an order for an arrangement add a couple stems of the Hypericum Berry.
Lots of Love,
I was chatting with our Event Coordinator and Creative Director Antionette Camastra and she was holding one of these flowers in her hand. At first I thought it was something out of a movie – looked like a bug eating plant – but once I had a better look and took some images I became intrigued. Hence today's blog!
This flower is also often called "sugarbushes" However the name "Protera" is name after the Greek god Proteus, who could change his form at will, because proteas have such a wide variety of forms.
The King Protea (another name for the flower) has several color forms and has 81 recognized garden varieties, some of which have imprudently been planted in its natural range. In some varieties the pink of the flower and red borders of leaves are replaced by a creamy yellow. This unusual flower has a long vase life in flower arrangements, and makes for an excellent dried flower. Which is one of the reasons we use it in our wedding floral arrangements here at the What A Bloom Flower Shop!
This gorgeous flower typically grows in a harsh environment with dry, hot summers and wet, cold winters. The flowers are fed at by a range of nectarivorous birds, mainly sun birds and sugar birds, hence being often named the sugarbush!
Interesting FYI – The King Protea is the National Flower of South Africa and lends its name to the national Cricket team, whose nickname is the Proteas. In the early 1990s there was a political debate as to how and if the flower should be incorporated onto the national Rugby teams shirts, perhaps replacing the controversial Springbok.
Thanks for checking out today's blog! Please email me if you have any thing you would like to see on the What A Bloom Blog at molly@whatabloom.com
Love,
We recently received a ton of poinsettia's at the flower shop. It made me curious as to how this plant came to be the Christmas plant and also sparked concern due to the rumors of it being poisonous. So I did my research and came across some useful information. I hope you learn something too!
The plant's association with Christmas began in 16th century Mexico, where legend tells of a young girl who was too poor to provide a gift for the celebration of Jesus' birthday. The tale goes that the child was inspired by an angel to gather weeds from the roadside and place them in front of the church altar. Crimson "blossoms" sprouted from the weeds and became beautiful poinsettias. From the 17th century, Franciscan friars in Mexico included the plants in their Christmas celebrations. The star-shaped leaf pattern is said to symbolize the Star of Bethlehem, and the red color represents the blood sacrifice through the crucifixion of Jesus.
Also the plant was once used  to produce red dye and as an antipyretic medication.
The most common misconception of the poinsettia is that it is a toxic, dangerous plant. That is simply an urban legend that was formed when a child died after consuming a poinsettia leaf.
The sap on some plant leaves is fairly poisonous, however the level of toxicity in the poinsettia is very mild. It is actually the  latex that can cause an allergic reaction in sensitive individuals. It is also mildly irritating to the skin or stomachand may sometimes cause diarrhea and vomiting if eaten. Sap that is put into the human eye may cause temporary blindness. Studies show that a 50 lb child would have to eat 500 pieces of this plant for it to cause considerable, life threatening damage.
December 12th in the United States is National Poinsettia Day!
Love,
The What A Bloom Blog
I know Lily is typically a summer flower, but to me it reminds me of the Holidays at times. With Christmas and Hanukkah coming up why not share it. The Lily was a cherished flower of the ancient times by Jewish people, stemming from a myth that said a Lily grew from Eve's tears as she was cast away to the Garden of Eden. Lilies also accompany the Poinsettia very nicely.
This gorgeous flower starts out as a small bulb that grows into a large prominent flower with over 110 species stemming from it. Lilies can also grow as large as 2 to 6 ft tall! They also give off quite the aroma, known to be one of the strongest scented flowers, ranging colors of white, pink, orange, yellow, red and purple.
A late spring – early summer bloomer, but still one of my faves all year round!!!
Lots of love,
Is the Orchid Dead Yet?
Some of you have either bought an orchid for yourself or received on as a gift. If your luck as anything like ours, it usually waits a casual month or (if you're lucky) two before it kicks the bucket. Or, at the very least, all of the pretty flowers wither and fall off and you're left with a leafy green thing with a long stem. But don't trash your failed attempt at orchiding just yet, we've found some great advice from Rad Megan's blog on how to rehabilitate your poor orchids back to life and, with the proper care, enjoy for years.
Megan's recipe for success/orchid rehabilitation:
Bright, indirect sunlight
A moderate temperature (something you would be comfortable sitting in without a sweater)
Distilled water
A good potting mix
Megan's Orchid potting mix:
3 cups orchid bark
1 cup perlite
1 cup spaghnum moss
Tip #1: It's not uncommon to find packing peanuts in the bottom of a store-bought orchid, and you can add these to your mix if you don't have access to perlite or spahnum moss.
Tip #2: When an orchid starts to look crummy, there are several things that could be happening. Re-potting an orchid is a great way to determine what is ailing it, and will often be the fastest way to cure it.
When repotting your orchid and you notice:
Bugs: Aphids are notorious for attacking the flowers and new buds, while mealy bugs like to attack new growth or hide in deep cracks in the orchid's leaves. If you see aphids, wash them off with water and a weak soap solution. If you see the mealy bugs, dip a Q-tip in rubbing alcohol and lightly rub the areas where they are infesting (this will kill them).
Rot: Often times there will be rotting sphagnum moss stuck between roots, so just shake of the old potting soil before replanting in the new mix. You don't want to cut any roots unless they feel limp. Healthy orchid roots look white and turn green when wet.
Tip #3: If you are re-using an old pot for your orchid, be sure to scrub it with bleach or a strong soapy solution. Fungus and insect eggs may be hiding in old, dirty pots so take the time to clean them out before adding your orchid mix.
Once you've cleaned off and pruned your orchid and cleaned the container, place a layer of the soil mixture at the bottom and plant your orchid on top. Stabilize with more soil on the sides and add a layer on top, covering the roots.
Love,
World's Largest Flowers
We've already featured the world's largest flower on Flower Blog, but there are more than one big bloom out there (in this case, there's four). Check out the world's largest flowers and plants:
1. Corypha umbraculifera:
Corypha umbraculifera, better known as the "Talipot palm," is the largest inflorescent flowering plant. Inflorescent is defines as, "group or cluster of  flowers arranged on a stem that is composed of a main branch or a complicated arrangement of branches," thanks Wikipedia!
2. Amorphophallus Titanum
Yep, he's a big boy. Averaging 10ft. in height, the Amorphophallus Titanum is an amazing specimen to behold. But this flower isn't as it seems. The "flower" of the Amorphophallus Titanum is not a single flower, but rather hundreds of small buds on a single giant stalk. This Indonesian native is commonly referred to as the "corpse flower" because it smells like rotten meat.
3. Helianthus Annuus
Not as unusual as the corpse flowers, the common sunflower is still a force to be reckoned with, measuring an average of 12 feet high and more than two feet in diameter.
4. Rafflesia arnoldii
Weighing in at 24lbs. on average and measuring up to 3ft. in diameter, Rafflesia arnoldii produces the world's largest single bloom. Rafflesia arnoldii is found in the rainforests of Indonesia and Malaysia. Also known as the "corpse flower," the large bloom reeks of rotting meat—this strong scent attracts flies which pollinate Rafflesia arnoldii.
And there you have it! The world's largest flowers.
Love,
Growing Herbs from Snippets
Summer is well under way, and the staff at Flower Blog know that fresh herbs are in abundance. Here's a great tutorial on how to grow your own herb garden indoors (or out!) from only a snippet of an herb:
From the author: Rooting herbs in water is a great way to share plants with friends, and keep your own collection thriving without spending a lot of money.
Here's Rad Megan's tips for your own rooting garden:
When making your cuttings, be sure you get as much of the stem as possible (I usually keep 3-5 inches of stem.

Also, check the water levels in your bottles. If you have them sitting in a bright and sunny window, a lot of water is going to evaporate, and your developing roots may shrivel.

Keep the water clean, and as full as possible.

I tend to use recycled bottles, jars or glasses to root my herbs, but you can also pick up pretty rooting vases.
Thanks to Rad Megan for this awesome post! We can't wait to make our own herb garden for ourselves and our friends!
Love,
Late-Blooming Orchid
Thanks to Fun Flower Facts for the scoop on the Bulbophyllum nocturnum, the world's only orchid that blooms at night! Read on for more details:
Credit: JSTOR
Discovered late 2011 by a team of scientists from the Royal Botanic Gardens, Kew and Leiden University, Bulbophyllum nocturnum is the first species of orchid (out of 25,000 known species of orchids) known to consistently flower during the night, and close its flowers during the day.
The Bulbophyllum nocturnum produces flowering stalks only 5 mm (0.2 in) long, which bear a single flower. The flowers are around 2 cm (0.8 in) long, with "yellowish green" sepals.
Credit: Chester Garden Club
It's is speculated that the plants pollinators (possibly midges) are nocturnal, hence why they bloom only at night. The Queen of the Night Cactus, the Midnight Horror Tree and Night Blooming Jasmine are the only other three plants documented to flower in the night.
Love,
Alternatives to Peonies
Peonies are gorgeous flowers, but as a bride (or even just because) can be expensive and are only in-season for a few months out of the year. So what's a suitable alternative? Why not roses! Here's a list of roses via Lifework Media Blog that look similar to the "king of flowers" that are available year-round and won't break the bank for brides-to-be:
1. Cabbage Rose
Credit: Lovely Little Details
2. Juliet Rose
Credit: Jen McCabe via Honey Kennedy
3. Eden Rose
Credit: Lorenz von Ehren
4. Florence Nightingale Floribunda Rose
Credit: Wayside Gardens
5. Miranda (Ausimmon) Rose
Credit: David Austin Roses via Golden Ivy
UPDATE: What A Bloom now carries David Austin Roses, so if you want the peony look year-round, contact us for more information.
Love,
Foxglove Fights Cancer
Flower Blog is here to learn you on how this unique flower is being used in cancer-fighting drug treatments:
Scientists from the Institute for Cell Engineering at John Hopkins University, in Baltimore, MD, have discovered that a drug based on foxglove can dramatically slow the migration of malignant cells to other parts of the body.
Their research reveals that digoxin, a long-established drug based on chemicals found in foxglove, can block the production of a protein called HIF-1, which are responsible for the spread of breast tumours.
Credit: Manfred
Digoxin has been used for decades to treat conditions such as congestive heart failure and irregular heartbeats. But this latest discovery by the team at Johns Hopkins suggests this cheap and easily available medicine could also be deployed in the fight against cancer.
Credit: Kerry McQuaid
Earlier in 2011, the same team found digoxin could reduce the spread of prostate cancer in men byroughly 24 per cent. 'This is really exciting,' said research leader Dr Gregg Semenza. 'Our findings warrant clinical trials to determine if the doses (used in animal studies) are enough to sufficiently block HIF-1 and slow breast cancer growth and spread.'
Credit: content from Fun Flower Facts
Share this news with your friends and family!
Love,
Endangered Flowers in North America
Though this week's Flower Facts isn't exactly "fun," we at Flower Blog feel it's important to point out which species of native plants and flowers are on the verge of extinction so we can all do our part to conserve these rare beauties.
Definitions:
Extinct – a species formerly indigenous to Canada that no longer exists anywhere.
Extirpated – a species no longer existing in the wild in Canada but occurring elsewhere in the world.
Endangered – a species threatened with imminent extinction or extirpation throughout all or a significant portion of its Canadian range.
Threatened – a species likely to become endangered in Canada if the factors affecting its vulnerability are not reversed.
Vulnerable – a species particularly at risk because of low or declining numbers, small range or for some other reason, but not a threatened species.
Extirpated Flowers:
Blue-eyed Mary
Credit: Doug Bauman
Illinois Tick Trefoil
Credit: Valerie Lykes
Endangered:
Gattinger's Agalinis
Credit: Per's Wild Flowers
Skinner's Agalinis
(no photo available)
Eastern Prickly Pear Cactus
Credit: EduPic
Slender Bush Clover
Credit: Field Bio in Ohio
Pink Coreopsis
Credit: Live Life Like
White Prairie Gentian
Credit: Squash Blossom Farm
Small White Lady's Slipper
Credit: Blake Maybank
Furbish's Lousewort
Credit: Best Pictures of Canada
Pink Milkwort
Credit: North Carolina Native Plant Society
Eastern Mountain Avens
Credit: Go Botany
Slender Mouse-ear-cress
Credit: 90 Ways
Western Fringed Prairie Orchid
Credit: ranger.carlos
Large Whorled Pogonia
Credit: Wildflowers.org
Small Whorled Pogonia
Credit: Wildflowers.org
Wood Poppy
Spotted Wintergreen
Credit: Darel Hess
Threatened:
Anticosti Aster
Credit: Louis-M. Landry
Bluehearts
Western Blue Flag
Credit: Chuck Stull
Plymouth Gentian
Credit: New England Wildflower Society
Giant Helleborine
Credit: James Gaither
van Brunt's Jacob's Ladder
Credit: Stephen Clayden
Small-flowered Lipocarpha
Credit: Vahl G. Tucker
Nodding Pogonia
Credit: Brad Wilson, DVM
Western Spiderwort
Credit: Colorado Wildflowers
Pitcher's Thistle
Credit: Martha
Athabasca Thrift
(no picture available)
Purple Twayblade
Credit: Scott Namestnik
Sand Verbena
Credit: National Park Service
Bird's-foot Violet
Credit: Get Your Botany On!
Credit: content from Ray's Web
Keep your eyes peeled for these rare gems or ask your local botanist which plants are well-suited for your own backyard!
Love,
5/6/12
Flower Facts: Deadly Beauties
OK, we're a blog about flowers, just in case you haven't figured that out. Normally we post happy fun stuff celebrating the beauty of flowers in their many forms, but with help from Fun Flower Facts,  we're showing the deadly truth behind some of these beautiful buds. Please note: the following plants and flowers listed below are poisonous to humans, but can also be poisonous to animals too.
Angel Trumpet (Datura innoxia)
Toxic parts: all parts of this plant are toxic, including leaves and seeds.
Toxins: tropane alkaloids including atropine, hyoscine, and hyoscyamine.
Symptoms of poisoning: agitation, choreiform movement, coma, drowsiness, hallucination and an elevated temperature.
Belladonna (Atropa Belladonna)
Toxic parts: All parts are poisonous if ingested but the black berries are the most toxic part.
Toxins: Tropane alkaloids and atropine
Symptoms of poisoning: fever, rapid pulse, dilation of pupils, hot and dry flushed skin, headache, dry mouth, difficulty in swallowing, burning of the throat, hallucinations and convulsions.
Caster Bean (Ricinus communis)
Caster Bean seeds
Toxic parts: The seeds (and to a much lesser extent the leaves) contain ricin, a protein, which is highly toxic in small quantities. Swallowing a seed without chewing prevents the release of the toxin because of the hard seed coat. However, chewing the seed allows release of the water- soluble chemical, and poisoning can occur. PLEASE NOTE: ingestion of 2-4 seeds can kill a child. Do NOT plant this plant in your yard if you have small animals or children.
Toxins: the protein Ricin, a toxalbumin, and ricinus agglutinin (or ricin), which causes  coagulation of the red blood cells.
Symptoms of poisoning: abdominal pains, diarrhea, vomiting, nausea, drowsiness, dehydration, discoordination, and hematuria. In cases of acute toxicity, symptoms appear after several hours to a few days, although they can occur quickly.
Jimson Weed (Datura Stramonium)
Toxic parts: All parts of this plant are poisonous including flowers, leaves, mature fruit, seeds and stems.
Toxins: tropane alkaloids including hyoscyamine, hyoscine (also called scopolamine), and traces of atropine are found in the plant
Symptoms of poisoning: agitation, babinski reflex, choreiform movement, confusion, convulsions, death, dizziness, drowsiness, faintness, unsteady gait, hallucination , elevated heart rate, inebriation, memory loss, dry mouth, nausea, pupil dilation, reflex excitability, dry skin, flushed skin, slurred speech, elevated temperature, thirsty, unconsciousness, absent urination and impaired vision.
Monkshood (Aconitum napellus)
Toxic parts: All parts are toxic including leaves and roots.
Toxins: Aconitine.
Symptoms of poisoning: agitation, faintness, muscle weakness, nausea, salivation, cold and moist skin, throat constriction, tingling sensation and vomiting.
Moonseed (Menispermum canadense)
Toxic parts: the mature fruit.
Toxins: alkaloids, specifics unknown.
Symptoms of poisoning: convulsions and death.
Oleander (Nerium oleander)
Toxic parts: All parts of this plant are toxic including flowers, leaves, stems and young shoots. Smoke from burning twigs is also said to be toxic.
Toxins: Oleandrin, a cardiac glycoside, is found throughout the plant, including the nectar of the flowers.
Symptoms of poisoning: dizziness, abdominal pain, vomiting, unconsciousness, bloody stools, and light and rapid pulse. Death has occurred in some cases.
Precatory-Pea (Abrus precatorius)
Toxic parts: Seeds contain a chemical called abrin, which is highly toxic.
Toxins: Abrin it is a lectin of Abrus precatorius and is a ribosome-inactivating protein. This chemical is regarded as one of the most deadly plant toxins known.
Symptoms of poisoning: abdominal pains, red and inflamed cecum, cerebral edema, death, diarrhea, purple gastric mucosa, nausea, gray mucous stomach and vomiting.
Spurge Laurel (Daphne laureola)
Toxic parts: All parts are toxic including bark, leaves, flowers and mature fruit.
Toxins: Daphnetoxin, dihydroxycoumarin and mezerein.
Symptoms of poisoning: Abdominal pains, diarrhea, dysphagia, irritation of mouth, salivation and thirst.
Western Water Hemlock (Cicuta douglasii)
Toxic parts: The toxins are concentrated in the chambered rootstock but also occur in the leaves, stems and young shoots as well.
Toxins: Cicutoxin.
Symptoms of poisoning: Coma followed by death.
**A word of caution to all our bloggers for all these plants, please reconsider planting these in your yard and seek immediate medical attention if you come into contact with any of the poisonous parts of these plants.**
Love,
28/5/12
Flower Facts: Flower Arranging is Old School Art
Did you know that flower arranging is older than indoor plumbing? What we consider a modern expression of our feelings for others is actually some pretty old school stuff. Here's a bit of history behind flower arranging in Ancient Egypt, Greece and Rome and China via Wikipedia:

Hieroglyph of a woman carrying an offering of flower blossoms and stems.
Very similar to how we present flowers today, Egyptians were decorating with flowers as early as 2,500 BCE and placed their arrangements in vases as well as garlands. Egyptians are considered the earliest flower designers.
Flowers had religious implications and were associated with many of the gods and goddesses worshiped in ancient Egypt–many different flowers such as blue scilla, nemone, Iris sibirica, delphinum, narcissus, palm tree, papyrus and rose were all found in tombs.
From http://gallery.e2bn.org/asset73112-.html
The Ancient Greeks and Romans also used flowers, predominantly for wreaths and garlands. The most commonly-known use of flower arranging in Ancient Greece and Rome is the laurel wreath. For Rome, laurel wreaths symbolized military victory and were worn by Roman commanders. For Greece, the laurel wreath represented power, honour , allegiance, and dedication, and was awarded to athletes, poets, civic leaders, soldier, and heroes.
The most common flowers use in ancient Greece and Rome were: roses, hyacinths, honeysuckle, violets, and lilies.
Known as "the King of the Flower Kingdom" for its national beauty and heavenly fragrance, the peony is also regarded as the flower of "riches and honor".
For the Ancient Chinese, flower arranging dates back to the Han dynasty (210 BC), and flowers and herbs were commonly used in ancient remedies and religious ceremonies. Starting in 618 CE, members of Buddhism, Taoism, and Confucianism placed cut flowers on their altars. They also created paintings, carvings, and embroidered items with depictions of flowers.
The most honored of all flowers was the "king of flowers", the peony. For Ancient China, it symbolized wealth, good fortune, and high status. Other flowers had different meanings as well, for example the tiger lily, the pomegranate, and the orchid symbolized fertility.
Love,
22/5/12
Flower Facts: A Different Way to Charge Your iPod
Thanks to Treehugger for spotlighting this new take on an old concept: flower power!

From Treehugger.com
The XD Design Solar Sunflower has a 10-centimeter (3.93-inch)  blossom atop a 23-centimeter (9-inch) stalk and flowerpot represents a 5-volt (1000 mA, or 1 amp) charging station with a 2500 mAh (2500 milliamp hours, or 2.5 amps per hour) rechargeable lithium battery. If only it made hot dogs…
Close, but no banana.
The device also has a mini-USB input to a USB output, so you can charge pretty much every device you own. The charging dock weighs a measly 0.39 kg (13.75 ounces, or just under a pound) and comes with a mini-USB charging cable. If you're interested in ordering yours today, visit design3000.de.
Love,
15/5/12
Flower Facts: Flowers that Attract Butterflies
From kewlwallpapers.com
Want to attract these lovely bugs (yep! butterflies are still bugs folks) to your garden? Here's some flower recommendations fromHorticulture Magazine to help you create a summer butterfly haven:
"Adult butterflies require nectar plants for food to give them the energy necessary for flight. Though many flowers contain nectar for butterflies, there are a few superstar performers:"
1. Butterfly bush (Buddleia davidii)
From finegardening.com
Butterfly bush is available in a variety of colors, provides dozens of fragrant blooms from July through late August, produces a ton of nectar, and is a must-have for any butterfly garden.
2. Coneflower (Echinacea purpurea)
From en.wikipedia.org
The butterfly garden should also include the cornflower due to its tough, drought-tolerant bloom, not to mention it's pretty flower bud too
3. Brazilian verbena (Verbena bonariensis)
From hotplants.co.uk
Drought-tolerant Brazilian verbena is another great butterfly bringer. Helpful tip: trim after the first bloom to encourage rebloom later in the season.
4. Butterfly milkweed (Asclepias tuberosa)
From gardenality.com
Butterfly milkweed is another butterfly plant that's easy to grow right from the seed.
5. Zinnia (Zinnia angustifolia)
From delange.org
Last but not least, the zinnia–it's a favourite for butterflies of all types, and provides a great punch of colour to the garden.
There you have it folks! Five great, gorgeous flowers perfect for your garden that also attracts some delightful company in the process!
Love,
7/5/12
Flower Facts: Edible Flowers
Ok, so we've got an entire page of our site dedicated to posting yummy recipes relating to flowers–but how do you know that what you've got growing in the backyard is going to be delicious or deadly? NEVER FEAR! Treehugger found 42 flowers safe for eating and describe how they taste to boot!
1. Allium
All blossoms from the allium family (leeks, chives, garlic, garlic chives) are edible and flavorful! Flavors run the gamut from delicate leek to robust garlic. Every part of these plants is edible.
2. Angelica
Depending on the variety, flowers range from pale lavender-blue to deep rose and have a licorice-like flavor.
3. Anise hyssop
Both flowers and leaves have a subtle anise or licorice flavor.
4. Arugula
Blossoms are small with dark centers and with a peppery flavor much like the leaves. They range in color from white to yellow with dark purple streaks.
5. Bachelor's button
Grassy in flavor, the petals are edible. Avoid the bitter calyx.
6. Basil
Blossoms come in a variety of colors, from white to pink to lavender; flavor is similar to the leaves, but milder.
7. Bee balm
The red flowers have a minty flavor.
8. Borage
Blossoms are a lovely blue hue and taste like cucumber!
9. Calendula / marigold
A great flower for eating, calendula blossoms are peppery, tangy, and spicy — and their vibrant golden color adds dash to any dish.
10. Carnations / dianthus
Petals are sweet, once trimmed away from the base. The blossoms taste like their sweet, perfumed aroma.
11. Chamomile
Small and daisylike, the flowers have a sweet flavor and are often used in tea. Ragweed sufferers may be allergic to chamomile.
12. Chervil
Delicate blossoms and flavor, which is anise-tinged.
13. Chicory
Mildly bitter earthiness of chicory is evident in the petals and buds, which can be pickled.
14. Chrysanthemum
A little bitter, mums come in a rainbow of colors and a range of flavors range from peppery to pungent. Use only the petals.
15. Cilantro
Like the leaves, people either love the blossoms or hate them. The flowers share the grassy flavor of the herb. Use them fresh as they lose their charm when heated.
16. Citrus (orange, lemon, lime, grapefruit, kumquat)
Citrus blossoms are sweet and highly scented. Use frugally or they will over-perfume a dish.
17. Clover
Flowers are sweet with a hint of licorice.
18. Dandelion
19. Dill
Yellow dill flowers taste much like the herb's leaves.
20. English daisy
These aren't the best-tasting petals — they are somewhat bitter — but they look great!
21. Fennel
Even Mr. Caterpillar thinks these noms are tasty!
Yellow fennel flowers are eye candy with a subtle licorice flavor, much like the herb itself.
22. Fuchsia
Tangy fuchsia flowers make a beautiful garnish.
23. Gladiolus
Who knew? Although gladioli are bland, they can be stuffed, or their petals removed for an interesting salad garnish.
24. Hibiscus
Famously used in hibiscus tea, the vibrant cranberry flavor is tart and can be used sparingly.
25. Hollyhock
Bland and vegetal in flavor, hollyhock blossoms make a showy, edible garnish.
26. Impatiens
Flowers don't have much flavor — best as a pretty garnish or for candying.
27. Jasmine
These super-fragrant blooms are used in tea; you can also use them in sweet dishes, but sparingly.
28. Johnny Jump-Up
Adorable and delicious, the flowers have a subtle mint flavor great for salads, pastas, fruit dishes and drinks.
29. Lavender
Sweet, spicy, and perfumed, the flowers are a great addition to both savory and sweet dishes.
30. Lemon verbena
The diminutive off-white blossoms are redolent of lemon — and great for teas and desserts.
31. Lilac
The blooms are pungent, but the floral citrusy aroma translates to its flavor as well.
32. Mint
The flowers are — surprise! — minty. Their intensity varies among varieties.
33. Nasturtium
One of the most popular edible flowers, nasturtium blossoms are brilliantly colored with a sweet, floral flavor bursting with a spicy pepper finish. When the flowers go to seed, the seed pod is a marvel of sweet and spicy. You can stuff flowers, add leaves to salads, pickle buds like capers, and garnish to your heart's content.
34. Oregano
The flowers are a pretty, subtle version of the leaf.
35. Pansy
The petals are somewhat nondescript, but if you eat the whole flower you get more taste.
36. Radish
Varying in color, radish flowers have a distinctive, peppery bite.
37. Rose
Remove the white, bitter base and the remaining petals have a strongly perfumed flavor perfect for floating in drinks or scattering across desserts, and for a variety of jams. All roses are edible, with flavor more pronounced in darker varieties.
38. Rosemary
Flowers taste like a milder version of the herb; nice used as a garnish on dishes that incorporate rosemary.
39. Sage
Blossoms have a subtle flavor similar to the leaves.
40. Squash and pumpkin
Blossoms from both are wonderful vehicles for stuffing, each having a slight squash flavor. Remove stamens before using.
41. Sunflower
Petals can be eaten, and the bud can be steamed like an artichoke.
42. Violets

Another famous edible flower, violets are floral, sweet and beautiful as garnishes. Use the flowers in salads and to garnish desserts and drinks.
Love,
4/30/12
Flower Facts: Space Flowers!?
Check out these gorgeous space "flower" and its story from National Geographic:
Spring flowers are blooming—even in space. This recently released picture shows NGC 7023, also called the Iris nebula for its floral appearance, as seen from Kitt Peak National Observatory in Arizona.
The cosmic flower is actually what's known as a reflection nebula. The interstellar cloud of dust and gas glows not because its material is being heated, but because it's reflecting light from nearby stars.
For instance, the bright glow in the middle of the nebula comes from a hot, massive star that gives off blue light, which then gets scattered by dust, lending the nebula its distinctive color.
Fact: space is cool. Space flowers are even cooler.
Love,
23/4/12
Flower Facts: 32,000 Year-Old Flower Has Rebloomed
Looks like global warming has some benefits, who knew? This great story from Treehugger tells all:
A team at the Institute of Physicochemical and Biological Problems in Soil Science, Russian Academy of Sciences in Moscow, Russia discovered – in a fossilized squirrel burrow in Siberia – remnants of the ice-age flowering plant Silene stenophylla. The plant had been buried at a depth of 38 meters in sediments with a temperature of −7°.
Radiocarbon dating of the plants seemed to show that an ancient squirrel stashed them around 31,800 years ago, just before ice rolled into the area near the Kolya river.
Poor Mr. Squirrel. All he wanted was a tasty treat, not to be sealed in ice for 30k years.
Scientists used growth hormone to coax silene stenophylla back to life and eventually, back to bloom. They are now, according to the Proceedings of the National Academy of Sciences report " the most ancient, viable, multicellular, living organisms."
Thanks to global warming and steroids, we've breathed life into ancient history. Next on the "to do" list: dinosaurs.
"Oh s#*t."
Love,
16/4/12
Flower Facts: New Flower is a Bit Excited to Meet You
Known for it's relation to the stinkiest flower in the world, this phallic-shaped species recently discovered by botanist Greg Wahlert has been making heads turn and people gag since its discovery:
The newly discovered plant species Amorphophallus perrieri grows to about five feet tall.
University of Utah botanist Greg Wahlert stands next to a new plant species he discovered — Amorphophallus perrieri — as it was starting to bloom on Feb. 2. A day later, the 4.5-foot-tall plant, began stinking like roadkill, just like its bigger and more famous, 20-foot-tall relative, Amorphophallus titanum, also known as the "corpse flower."
Gross, but kind of cool, the Amorphophallus perrieri is probably not a plant you'll see cropping up in any of your neighbours flower beds anytime soon, but it's still quite an interesting bloom!
Love,
Your friends at Flowerblog
9/4/12
Flower Facts: Food and Flowers Freedom Act
From NaturalNews: Backyard flower farmer's persistence leads to passage of 'Food and Flowers Freedom Act'
A glitch in the local zoning code ended up causing Tara Kolla of Silver Lake, Calif., to have to abandon her passion for growing pesticide-free, "beyond organic" flowers in her backyard for several years. But the Los Angeles Times reports that, thanks to her hard work and persistence, Kolla was able to help pass the Food and Flowers Freedom Act, which has reinstated her and her neighbors' freedom to grow whatever produce they choose and sell it off-site.
It all began when Kolla's lawyer neighbor, who had reportedly had a previous run-in with her, filed a complaint with the City of Los Angeles Department of Building and Safety about the fact that she had been growing flowers in her yard and selling them at farmers markets and other locations. Local zoning ordinances at the time only permitted backyard growers to plant vegetables for outside sale, not flowers or fruit, which meant Kolla was technically in violation of the provisions.
Kolla had originally purchased her Silver Lake property with the intention of growing clean, chemical-free flowers and selling them locally as a way to help earn her living. But this all ended at the peak of her 2009 harvest when the city ordered her to immediately cease selling the flowers. Consequently, she was forced to give away the flowers that had already been produced and stop cultivating the rest.
"I've come a long way, and it cost me much in the journey," said Kolla to the Los Angeles Times. "Most people don't realize that commercial flowers are covered in pesticides. There are many local farmers doing an amazing job of growing food organically but very few growing flowers."
The city's cease-and-desist order against Kolla was not enough to suppress her freedom, however. Over the next several years, Kolla's friends and allies in the local community helped her form an alliance known as Urban Farming Advocates, which was able to get help from City Council member Eric Garcetti in crafting legislation that would expand the scope of backyard farming to include all sorts of things besides just vegetables.
"I authored the Food and Flowers Freedom Act to promote local growing by simply filling in a gap in our city laws, which addressed the growing of vegetables but not other items commonly sold at our local farmers markets," said Garcetti. These other items include berries, flowers, fruits, grains, herbs, mushrooms, nuts, ornamental plants, and seedlings.
To learn more about Tara Kolla's work, check out herSilver Lake Farmswebpage at: http://www.silverlakefarms.com/
Learn more: http://www.naturalnews.com/035360_flowers_freedom_backyard.html#ixzz1rYdHWNxC
Love,
Your friends at Flowerblog
4/3/12
Flower Facts: Wedding Flower Info
Tis the season for weddings, and spring weddings usually incorporate lots of floral arrangements: the bridal bouquet, bridesmaid bouquets, boutonnieres for the groom and groomsmen, corsages for the parents and grandparents, and more! If you want fresh flowers at your wedding, you better check out these great tips from Tim Farrell first.
1)  Contract with a professional florist to do your wedding flowers. You really are doing yourself a favor when you hire a professional to bring the beauty of flowers to your special day. Don't try to make it a DIY project. Think of all of the time and money you have invested in the day. Don't cheat yourself to try to save a few bucks. Professional florists have seen what works and what doesn't. Professional florists have the knowledge to order correctly, and time the opening of all the blooms so that they are just perfect on your wedding day. Professional florists will deliver and install the décor so that you don't have to worry about any of that on your wedding day.
2) Go with a personal recommendation for your florist. Ask around. Most towns have certain florists that are the "go to" people for weddings. Preparing and designing perfect wedding flowers take quite a bit of dedication and commitment, so you will probably hear a few names mentioned over and over. Go with one of those recommendations, and leave nothing to chance. If you can't find a recommendation, start with the Society of American Florists' Florist Directory for florists in your area. Then visit them and ask to see their work. You'll get a feel for the character and style of the shop and their work. Go with your gut.
3)       Book your florist early. Because wedding flowers are labor intensive and perishable, most florist shops are limited on the number of weddings they can handle on a particular date. Call as soon as you have the date, time and place for your wedding and reception and make arrangements to meet with your florist to lay the groundwork for your wedding flowers. If you already are confident on who you are using, leave a deposit ASAP to secure the date for you.
4)    Ask the pro for advice. While it is always good to do homework and get some kind of idea of what you would like for your wedding, it is advisable to ask your florist for suggestions to make your day even more beautiful. Use their expertise to your advantage. Your florist might have an idea to incorporate an unexpected color that harmonizes your color palette. Your florist might be able to suggest alternative flowers that achieve the same look on a more modest budget. Your florist will also be glad to suggest design styles and floral combinations that give you a unique "signature" look for your wedding.
5)    Choose some fragrant flowers. The human psyche closely associates flowers and fragrances. Just think of what you see most people do when they get up close to a few blossoms. Use that to your advantage and make sure to have your florist include a few fragrant blooms in all aspects of the wedding flowers. Lighter sweet fragrances like stephanotis, freesia and stock are perfect for corsages and bouquets. They all have pretty fragrances that are not at all overpowering. In large venues or ceremony locations, even a few stems of Oriental lilies can fill the air with a sweet perfume. Others like tuberoses, sweet peas and English Garden Roses bring the outdoors in and are truly a pleasure for the senses.
Love,
Your friends at Flowerblog
27/3/12
Flower Facts: Top 10 Wedding Flowers
Before you make that appointment with your florist check out the top 10 most popular wedding flowers from The Knot Book of Wedding Flowers.
1. Roses:
Its the symbol of beauty and love. This affordable option is one of the most popular flowers for weddings. With over 3,000 varieties grown each year you can find roses in solid colors, bi-color varieties, striped, and tipped colors.
2. Tulips:
Tulips come in a variety of colors, and most of them are pretty affordable. They represent "consuming love" and "happy years," so the tulip can be a meaningful wedding choice.
3. Calla Lily:
Also known as the arum lily, it symbolizes "magnificent beauty" in the language of flowers. Creamy ivory is the most popular color, but calla lilies also come in yellow, orange, mauve-pink, and dark purple.
4. Lily of the Valley: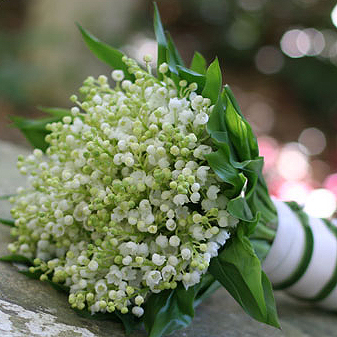 Its fresh, perfumed scent from its tiny flowers is unmistakable. The lily of the valley is sometimes called "the ladder to heaven." This option is expensive, but will compliment any arrangement. It also comes in a very rare, but beautiful rosy pink color.
5. Hydrangeas: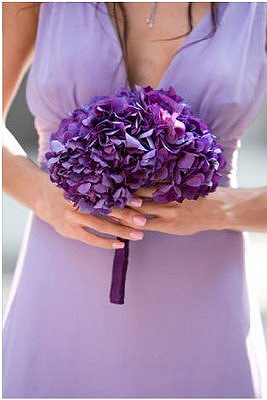 A stem or two of this moderately priced, scentless shrub flower helps fill out arrangements and bouquets, and a few sprigs make a charming boutonniere.
6. Peonies:
Grown in single- and double-flower styles, this expensive bloom is seasonally available from late spring to early summer but can be imported in the fall. It has a large, full head, strong perfume, and bright color.
7. Ranunculus: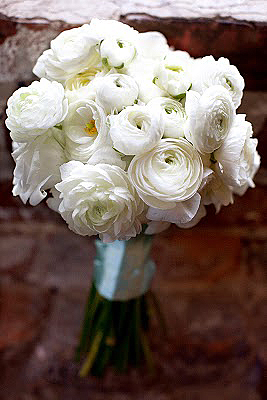 It means "I am dazzled by your charms." Its a great cost-effective alternative to roses and peonies and is available in white, yellow, orange, and pink.
8. Stephanotis:
The Victorian meaning for this flower is "marital happiness." A very traditional choice a bride can make its mildly scented, moderately priced, and available year-round.
9. Sweet Peas: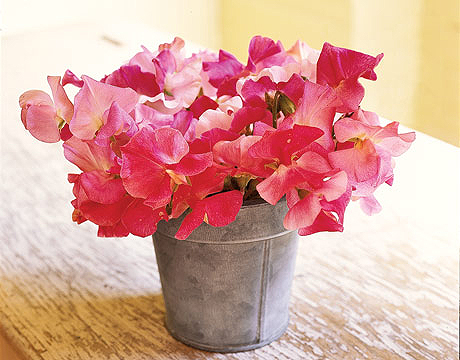 The sweet pea's colors range from white to intense pinks and purples, and its scent can be strong and sweet. This old fashion favorite means, "lasting pleasure."
10. Gardenia:
Be gentle this delicate flower with creamy ivory petals is expensive and can bruise easily. Its intoxicating scent will be a huge favorite at your wedding.
We love all of these special wedding bouquet flowers, which will you choose? Leave us a comment and let us know!
Love,
Your friends at Flowerblog
Love the bouquets you saw in this post? Check out more beautiful bouquets on Special Moments Weddings!
22/3/12
Flower Facts: A New Rose
Check out the newest shade of beauty–the Black Bird Rose. FromFun Flower Facts:
One of the newest roses to be introduced is the Black Bird rose. It is actually a red rose tinted with blues and purples to give the petals a dark purple or black tint. Most tinted roses are a white or cream color with the tint either being absorbed up its stem to get a solid color tinted rose or each color injected into the stem which results in a rainbow colored rose.
Tinting any rose is an inexact science so no 2 tinted roses will look exactly alike; they are like snowflakes in that respect. Also, the amount of the tint which the rose takes up its stem to its petals is dependent on a number of things: the variety of rose, the weather conditions, the stage the rose was harvested, etc…
If the rose is tinted too soon, it can result in a rose which is commonly referred to as a "bullet". A "bullet" is still beautiful and unusual but the petals will not open properly.
Love,
Your friends at Flowerblog
16/3/12
Flower Facts: The Meanings of Flowers
Here's the meanings of some popular flowers and plans from Rose Floral & Greenhouse:
An Anemome means Sincerity
From en.wikipedia.org
A Carnation means Joy
From flower-society.com
A Crocus means Gladness
From flowersgallery.net
A Daffodil means Respect
From topnews.net.nz
A Daisy means Innocence
mostbeautifulflower.com
A Fern means Grace
From horton.ednet.ns.ca
A Freesia means Trust
fond-ecran-image.com
Heather means Admiration
From coursesite.uhcl.edu
Huckleberry means Faith
guardian.co.uk
An Iris means Promise
list-of-birthstones.com
A Lilac means Beauty
brandonferney.blogspot.com
A Lily means Devotion
flowersgallery.net
A Mum means Hope
harveymillican.wordpress.com
An Orchid means Thoughtfulness
thepowerofintroverts.com
A Pansy means Merriment
fineartamerica.com
A Peony means Compassion
velvetbrown.co.uk
A Red Rose means Passion
red-rose-guides.blogspot.com
A Rose means Love
By Pajmcb
Snapdragons mean Strength
boisedailyphotogardenshot.blogspot.com
A Solidago means Success
perhillplants.co.uk
A Sunflower means Pride
en.wikipedia.org
A Tiger Lily means Prosperity
mzephotos.com
A Tulip means Luck
en.wikipedia.org
A Violet means Virtue
en.wikipedia.org
Wintergreens mean Harmony
winterwoman.net
Wisteria means Welcome
sloatgardens.com
A Yellow Lily means Gratitude
mukeshwallpapers.com
Love,
Your friends at Flowerblog
8/3/12
Flower Facts: St. Patrick's Day Tribute
Image from shadyshamrock.wordpress.com
St. Patty's Day is right around the corner, so we decided to provide you with a few fun facts about this well-loved holiday compliments of National Geographic and a blurb from Flower Factor on how to turn shamrocks into a houseplant:
The real St. Patrick wasn't Irish. He was born in Britainaround A.D. 390 to an aristocratic Christian family with a townhouse, a country villa, and plenty of slaves.
St. Patrick was captured by pirates and made a sheep herder in Ireland. He escaped and returned to Britain.
After converting to Christianity and becoming a bishop, St. Patrick was told by a voice to return to Ireland to convert the Irish to Christianity.
Patrick's work in Ireland was tough—he was constantly beaten by thugs, harassed by the Irish royalty, and admonished by his British superiors. After he died on March 17, 461, Patrick was largely forgotten.
According to St. Patrick's Day lore, Patrick used the three leaves of a shamrock to explain the Christian holy trinity: the Father, the Son, and the Holy Spirit.
St. Patrick did not banish snakes from Ireland. There currently are no snakes in Ireland because the climate conditions are too harsh, making snake migration through Ireland improbable.
Until the 1970s, St. Patrick's Day in Ireland was a minor religious holiday. A priest would acknowledge the feast day, and families would celebrate with a big meal, but that was about it.
The Chicago River was first turned green in 1962. The tradition started when parade organizer Steve Bailey, head of a plumbers' union, noticed how a dye used to trace possible sources of river pollution had stained a colleague's overalls a brilliant green (greenchicagoriver.com).
On any given day 5.5 million pints of Guinness, the famous Irish stout brand, are consumed around the world. But on St. Patrick's Day, that number more than doubles to 13 million pints, said Beth Davies Ryan, global corporate-relations director of Guinness (2011).
Oxalis a.k.a Shamrocks
The oxalis is a little green plant better known as a shamrock. Shamrocks and oxalis plants are easily grown as houseplants, and later, you can plant them outside. They enjoy bright indirect sunlight and a thorough watering. You can tell if the soil is dry by either feeling the soil or by picking up the pot (if the pot is much lighter than it was when you watered it, then it's dry). They don't like it hot and stuffy, so keep them away from heat sources. Do not let them freeze. If you have them for more than a month, you can start a program of low-dose fertilizer in the water by following the directions on the package. When it is time to plant outside, you can transplant the cyclamen and oxalis into a shady location. If they're properly cared for, your plant may reward you with some new delicate blooms.
Love,
Your friends at Flowerblog
3/1/12
Flower Facts: 25 of em!
Looking for some flower facts? The Garden Channel and Flowerblog would like to present you 25 fun facts about flowers:
1.     Roses are related to apples, raspberries, cherries, peaches, plums, nectarines, pears and almonds.
Simba, however, is not.
2.     Tulip bulbs were more valuable than gold in Holland in the 1600s.
3.     Ancient civilizations burned aster leaves to ward off evil spirits.
4.     Tulip bulbs can be substituted for onions in a recipe.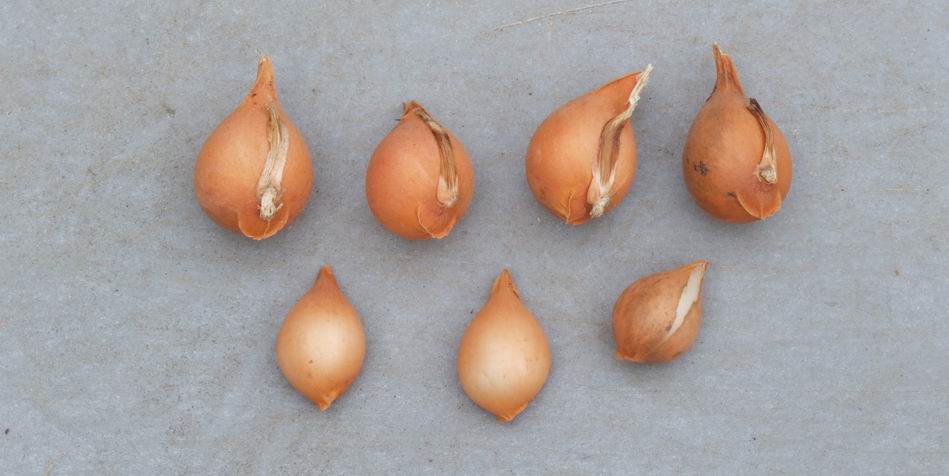 5.     Chrysanthemums are associated with funerals in Malta and are considered unlucky.
6.     The very expensive spice, saffron, comes from a type of crocus flower.
7.     The largest flower in the world is the titan arums, which produce flowers 10 feet high and 3 feet wide. The flowers smell of decaying flesh and are also known as corpse flowers.
8.     Almost 60% of fresh-cut flowers grown in the U.S. come from California.
9.     Hundreds of years ago, when Vikings invaded Scotland, they were slowed by patches of wild thistle, allowing the Scots time to escape. Because of this, the wild thistle was named Scotland's national flower.
10.  The lotus was considered a sacred flower by ancient Egyptians and was used in burial rituals. This flower blooms in rivers and damp wetlands, but may lie dormant for years during times of drought, only to rise again with the return of water. Egyptians viewed it as a symbol of resurrection and eternal life.
11.  Scientists discovered the world's oldest flower in 2002, in northeast China. The flower, named Archaefructus sinensis bloomed around 125 million years ago and resembles a water lily.
12.  The juice from bluebell flowers was used historically to make glue.
13.  Foxglove is an old English name, derived from the belief that foxes slipped their feet into the leaves of the plant to sneak up on prey.
14.  Dandelions might seem like weeds, but the flowers and leaves are a good source of vitamins A and C, iron, calcium and potassium. One cup of dandelion greens provides 7,000-13,000 I.U. of vitamin A.
15.  The flower buds of the marsh marigold are pickled as a substitute for capers.
16.  Sunflowers move throughout the day in response to the movement of the sun from east to west.
17.  Moon flowers bloom only at night, closing during the day.
18.  Flowering nicotiana is related to tobacco, from which cigarettes are made.
19.  Gas plants produce a clear gas on humid, warm nights. This gas is said to be ignitable with a lit match.
20.  When Mormon pioneers arrived in the Salt Lake Valley, they subsisted on the roots of the Sego Lily Plant. This plant is the state flower of Utah.
21.  The cornstarch-like powder known as arrowroot is derived from the plant, Marantha arundinacea, and is native to India. It was used by indigenous people to draw out the toxins from a poisoned arrow wound. Today, it is used to thicken pies and jellies.
22.  Angelica was used in Europe for hundreds of years as a cure for everything from the bubonic plague to indigestion. It was thought to ward off evil spirits.
23.  Blue cohosh, also known as squaw root or papoose root, was used by Native American women to ensure an easy labor and childbirth.
24.  During the Middle Ages, lady's mantle was thought to have magic healing properties.
25.  When Achilles was born, his mother dipped him head first in a bath of yarrow tea, believing it had protective qualities. Yarrow is still known for healing and was used during World War I to heal soldiers' wounds.
Love,
Your friends at Flowerblog
23/2/12
Flower Facts: Cut Flower Preserve Recipes
You just received a stunning flower arrangement like the Sunlit Treasures Bouquet from What a Bloom and you want to capture the beauty of these beautiful blooms forever, but how?
Simple! Here's a couple different ways you can preserve your flower arrangement past the holiday season compliments of About.com:
You know if you put fresh cut flowers in water it will help keep them from wilting. If you have a packet of cut flower preservative from a florist or the store, it will help the flowers to stay fresh much longer. You can make cut flower preservative yourself, however. There are several good recipes, made using common household ingredients.
Keys to Keeping Cut Flowers Fresh
Give them water.
Give them food.
Protect them from decay or infection.
Keep them cool and out of direct sunlight.
The floral preservative provides flowers with water and food and contains a disinfectant to prevent bacteria from growing. Making sure your vase is clean will also help. Discard any decaying leaves or flowers, because the freshness of flowers is influenced by the gases and bacteria found on wilted or rotting plant material. Also, don't set your flowers near ripe fruit, because the chemicals from the fruit (such as ethylene) will 'ripen' your flowers. If you can, keep your flowers in a cool location and out of sun. Minimize air circulation, since it speeds evaporation and can dehydrate your flowers. Trim the bottom ends of your flowers with a clean, sharp blade before arranging them in the vase containing the floral preservative. Cut the stems at an angle to increase the surface area for water and to prevent the ends from resting flat on the bottom of the container. In all cases, mix the floral preservative using warm water (100-110°F or 38-40°C) because it will move into the stems more effectively than cold water. Clean tap water will work, but if it is very high in salts or fluorides, consider using distilled water instead. Chlorine in tap water is fine, since it acts as a natural disinfectant.
Cut Flower Preservative Recipe #1
2 cups lemon-lime carbonated beverage (e.g., Sprite™ or 7-Up™)
1/2 teaspoon household chlorine bleach
2 cups warm water
Cut Flower Preservative Recipe #2
2 tablespoons fresh lemon juice
1 tablespoon sugar
1/2 teaspoon household chlorine bleach
1 quart warm water
Cut Flower Preservative Recipe #3
2 tablespoons white vinegar
2 tablespoons sugar
1/2 teaspoon household chlorine bleach
1 quart warm water
More Tips
Trim away any foliage which would be below the water line. The wet leaves encourage microbial growth that can rot your flowers.
Remove any unnecessary leaves because they will accelerate dehydration of the flowers.
Flowers with milky latex-containing sap require special treatment. Examples of these flowers include poinsettia, heliotrope, hollyhock, euphorbia, and poppy. The sap is meant to prevent water loss by the stem, but in a cut flower it keeps the plant from absorbing water. You can prevent this problem by dipping the bottom tips (~1/2 inch) of the stems in boiling water for about 30 seconds or by flashing the tips of the stems with a lighter or other flame.
Love,
Your friends at Flowerblog
6/2/12
Flower Facts: Zodiac Plants
We've told you what your Zodiac flower is, but did you know there are plants that accompany the Zodiac calendar as well? Check out what your plant is! Content compliments of Allen's Flowers:
Aquarius: Primrose
Pisces: Cineraira
Aires: Calceolaria
Taurus: Hydrangea
Gemini: Geranium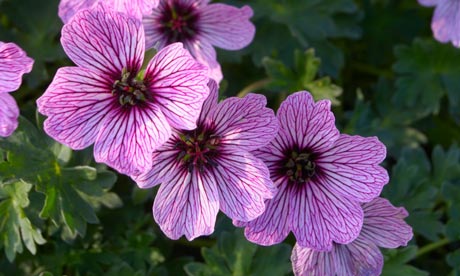 Cancer: Gloxinia
Leo: Begonia
Virgo: Chrysanthemum
Libra: Cyclamen
Scorpio: African Violet
Sagittarius: Azalea
Capricorn: Poinsettia 
Love,
Your friends at Flowerblog
9/2/12
Flower Facts: Flowers of the Zodiac
Just as there are flowers for every month of the year, there are also flowers for every Zodiac sign! Content compliments of Allen's flowers:
Aquarius (January 20 – February 18): Daffodil

Pisces (February 19-March 20): Freesia
Aires (March 21 – April 19): Tulip
Taurus (April 20 – May 20): Iris
Gemini (May 21 – June 20): Alstroemeria
Cancer (June 21 – July 22): Rose
Image compliments of Flower Pic Spot
Leo (July 23 – August 22): Carnation
Virgo (August 23 – September 22): Gladiolus
Libra (September 23 – October 22): Dahlia
Scorpio (October 23 – November 21): Gerbera
Image compliments of Tony Harrison Photography
Sagittarius (November 22 – December 21): Anemone
Image compliments of Wikipedia
Capricorn (December 22 – January 19): Chrysanthemum
Love,
Your friends at Flowerblog
2/2/12
Flower Facts: The Meaning of Rose Colours

Red roses have come to symbolize love and affection, but did you know that all rose colours have a symbol? Thanks to Allan's Flowers, we have the skinny on the meaning of rose colours:
Red rose: love, respect and courage 
Pink: happiness and gentleness 
Deep pink: thankfulness 
Pale Pink: grace and joy 
Yellow: joy and friendship 
Orange: fascination and enthusiasm 
White: innocence and secrecy, purity and happy love
Coral: desire 
Peach: modesty 
Bi-coloured: unity and gladness  
Love,
Your friends at Flowerblog
1/27/12
Flower Facts: Provincial Flowers
Just like every state in the good ol' US of A has a state flower, so does each province of Canada! Here's a list of all provincial flowers in Canada compliments of Knight's Canadian Info Collection:
British Columbia: Pacific Dogwood
The Pacific dogwood (Cornus nuttallii) was adopted in 1956 as British Columbia's floral emblem. The Pacific dogwood is a tree that grows six to eight metres high and flowers in April and May. In the autumn it is conspicuous for its cluster of bright red berries and brilliant foliage.
Alberta: Wild Rose
Better know by its common names, the Wild Rose or the Prickly Rose, Rosa acicularis is a member of the rose family (Rosaceae).  It was adopted by the Province of Alberta, Canada to be its official floral emblem in 1930.
Saskatchewan: Western Red Lily
*Image compliments of SaskPower
In 1941, the western red lily was chosen as the official flower of Saskatchewan. This lily grows in moist meadows and semi-wooded areas. With its flaming red blossoms, it stands out brilliantly against a natural green background. The western red lily is a protected species in Canada.
Manitoba: Prairie Crocus
*Image compliments of wild prairie man
The lavender coloured prairie crocus has been Manitoba's flower for almost a hundred years. Children in Manitoba chose it in a vote 1906. It blooms very early in the spring, sometimes even before all the snow has melted.
Ontario: Trillium
(Trilliium grandiflorum) Ontario chose the trillium as its provincial flower in 1937. This white flower grows in the forest in the springtime. It is called the trillium because it has three petals and three leaves. The "tri-" part of trillium means three.
Quebec: Blue Flag Iris
The Madonna lily was Quebec's flower for 36 years. It looks like the heraldic fleur-de-lis on Quebec's flag. The Madonna lily is the symbol of French culture in France and Québec, but it does not grow naturally in the province. Therefore, in 1999 Quebec chose a new flower that grows throughout the province: the blue flag iris.
New Brunswick: Purple Violet
*Image compliments of State Symbols USA
This small purple or dark blue flower grows in wet meadows and forests. It grows very well all over New Brunswick. The purple violet was chosen as the provincial flower in 1936.
Nova Scotia: Mayflower
*Image compliments of Historic Gardens
The Mayflower has long been a symbol of Nova Scotia's ability to endure the harshest Winter and to return each Spring represents Nova Scotia's survival throughout its long turbulent history. It was eventually declared Nova Scotia's provincial flower in 1901.
Prince Edward Island: Lady Slipper
The Lady's Slipper was adopted as the provincial flower on April 25, 1947. The orchid gets its name from the shape of its petals which form a pouch somewhat like a slipper. The Lady's Slipper blooms in late May and June and grows in shady and moist woodlands. These delicate flowers should not be picked, nor transplanted, as they will rarely survive a change of habitat.
Newfoundland and Labrador: Pitcher Plant
The pitcher plant is Newfoundland and Labrador's provincial flower. Newfoundland selected this plant as its floral emblem in 1954. It is called the pitcher plant because part of it can fill with water like a pitcher. Insects get trapped in the water and the plant eats them.
Yukon Territory: Fireweed
The Yukon chose the fireweed as its floral emblem in 1957. The fireweed is a tall plant with many small, dark pink flowers. It grows in places like clearings or next to roads and rivers. It is called "fireweed" because it is one of the first plants to grow after a fire.
Northwest Territories: Mountain Avens
*Image compliments of Tim Arvin
The Northwest Territories selected the mountain avens as its territorial flower in 1957. This short, white flower with small leaves can grow in high, rocky ground.
Nunavut: Purple Saxifrage
Nunavut's purple saxifrage grows well in cool weather. It is a small, bright-purple flower that grows like a mat over rocks and gravel. It can be found growing all over Nunavut, which is why the territory chose it as its floral emblem in 2000.
Love,
Your friends at Flowerblog
1/19/12
Flower Facts: Flower-Related Holidays
Sit back and enjoy some more fun facts about flowers right here at Flowerblog! We've got the Holiday Flowers for the Month of February all lined up for you—just wait for February 14th, there's a twist ending to that tale! Content compliments of Pinkies Parlour:
February 1: St. Bride's Day – ~Oats~
St. Bride's Day is the Celtic celebration of the coming Spring. Girls would make the "last sheaf" of the previous harvest into the image of the Celtic goddess Brigit, to lay in a decorated cradle called the "Bride's Bed." St. Brigid, named for the goddess Brigit, is the protector of pregnant women and midwives and one of the three patron saints of Ireland.
February 2: Candlemas Day – ~ White Snowdrop
*Image compliments of stockproject1.deviantart.com
Candlemas Day, is the blessing of the candles (also known as Feast of the Presentation of the Lord), observed in Roman Catholic and Eastern Orthodox churches. According to an old rhyme, "If Candlemas is fair and clear, There'll be two winters in the year." Today, this superstition is associated with the groundhog (Groundhog Day).
February 12: Lent – ~ Daffodil
*Image compliments of ilovefranklinave.blogspot.com
Daffodils are ssociated with Lent, the 40 days of fasting and penitence before Easter Sunday in most Christian churches. Also known as the "Lent Lily."
February 13: Dedicated to Saint Agatha – ~ Primrose~
February 14: St. Valentine – ~Crocus
*Image compliments of desktopwallpaperhd.com
St. Valentine, the Christian martyr for whom the modern Valentine's Day holiday is named. While the exact origins of the holiday are lost, many believe Feb 14 was selected for the celebration of Christian martyrs to disrupt celebrations of Lupercalia — a Roman fertility festival.
Love,
Your Flower-crazy friends at Flowerblog
1/12/12
Flower Facts: World Records
People aren't the only ones that can set world records (or bunnies!)
a-DORABLE!
Flowers have world records too! And here are a couple cool ones compliments of Angelfire:
The World's Largest Flower: The Titan Arum is not only the world's largest flower it is also the world's smelliest. This native of the central Sumatran rainforests is known affectionately as the Corpse Flower for its heavy perfume of rotting flesh. The Titan Arum bloom ranges 3 metres high.
The World's Smallest Flower: A bouquet of a dozen Wolffia blooms would comfortably fit on the head of a pin. A type of duckweed, Wolffia grows on the surface of ponds and slow moving streams and is native to Australia and Malaysia. The plant body is 0.6-0.9 mm long and only 0.2-0.5 mm wide. Not only is it one of the smallest flowering plants on earth, but it also produces one of the smallest fruits.
The World's Largest Bouquet: 101,794 roses went into the making of the world's largest flower bouquet in New York.
The World's Oldest Flower: In 2002 scientists in north-east China discovered a fossilized flower that blossomed about 125 million years ago. Called "the mother of all flowers", Archaefructus sinensis resembles the modern water lily.
Love,
Your crazy-dedicated team at Flowerblog
1/5/12
Five Flower Facts
And we're back with more flower facts from Pinkie's Parlour ladies and gents! Enjoy and share!
*Image compliments of cepolina.com
The number of Begonia hybrids is estimated between 1000 and 2000. Within this enormous family there are plants which are tiny enough to grow in an egg shell and others which can cover a greenhouse wall. If you become addicted to growing begonias you are called a begoniac.
The first recorded plant collectors were the soldiers in the army of Thothmes III, Pharaoh of Egypt, 3500 years ago. In the Temple of Karnak these soldiers are shown bringing back 300 plants as booty from Syria.
Image from orchidweb.com
In 1990 about 250 hectares were cultivated with orchids in Malaysia, producing over 27.86 million stalks of cutflowers, valued at RM 18.30 million.
Image from Wikipedia
The cactus family is divided into more than 100 genera. For simplicity North American cacti are placed into five groups: the prickly pears, the saguaro cactus group, the hedgehog cacti, the barrel cacti, and the pin-cushion and fishhook cacti.
*Image compliments of Wikipedia
In 1890 Luther Burbank crossed oxeye field daisy and Japanese daisy to produce perhaps the quintessential chrysanthemum – The Shasta Daisy.
Love,
Your fantastic friends at Flowerblog
12/29/11
Five Flower Facts
Greetings! Again it's that time of the week to dazzle your friends or fill in awkward lulls in conversations with fun flower facts compliments of Flowerblog (and a little help from Angelfire too).
*Image compliments of Wikipedia
The bluebonnet became the Texas state flower in 1901. In 1971, the state legislature, named all lupine species as the official state flower. The flower looks like a little bonnet when you look at it closely. After it rains, look for a drop of water in each bonnet or bowl-like petal. As the Texas bluebonnet flower ages, one of the top petals turns purple-red.
*Image compliments of giizis13.wordpress.com
Pink and White Lady Slipper (cypripedium reginae) is the State flower of Minnesota. Illegal to pick in the state, the pink and white lady slipper is one of Minnesota's rarest wildflowers. They can take up to 16 years to produce their first flower, and sometimes live for 50 years.
*Image compliments of Powell Gardens
The creamy-white bloom of the magnolia tree was designated the state flower of Louisiana in 1900 because of the abundance of trees throughout the state. Magnolia is an evergreen and the flower is usually fragrant. After the six to twelve petals of the flower have fallen away the large cone shaped fruit of the magnolia is exposed.
*Image compliments of services.flikie.com
The Peach Blossom became the State flower of Delaware on May 9, 1895. It was prompted by Delaware's reputation as the "Peach State," since her orchards contained more than 800,000 peach trees yielding a crop worth thousands of dollars at that time.
*Images compliments of California Maps
California is the source for nearly 60% of all USA-grown fresh cut flowers.
Love,
Your flower-crazy friends at Flowerblog
12/22/11
Five Flower Facts: Roses
Here are a few fun facts about flowers compliments of Flowerblog. Impress your friends and family today!
The rose is the best-known symbol of beauty and love. Red roses mean I love you. A dozen of them make the ultimate statement on Valentine's Day. A single rose signifies simplicity.
Women prefer pastel colored roses; men on the other hand prefer red.
The spice saffron comes from a certain type of crocus.
Tulip bulbs can be used in place of onions for cooking.
In 1986 United States' Congress voted to make the rose America's national flower.
Love,
Your flower-crazy friends at Flowerblog
12/15/11
The Anatomy of a Flower
We at Flowerblog love flowers (duh!), but we admit it never hurts to know more about that which you love. Impress your colleagues, friends and family with some super cool flower facts and diagram compliments of Enchanted Learning:
The Flower:
The flower is the reproductive unit of some plants (angiosperms). Parts of the flower include petals, sepals, one or more carpels (the female reproductive organs), and stamens (the male reproductive organs).
The Female Reproductive Organs:
The pistil is the collective term for the carpel(s). Each carpel includes an ovary (where the ovules are produced; ovules are the female reproductive cells, the eggs), a style (a tube on top of the ovary), and a stigma (which receives the pollen during fertilization).
The Male Reproductive Organs:
Stamens are the male reproductive parts of flowers. A stamen consists of an anther (which produces pollen) and a filament. The pollen consists of the male reproductive cells; they fertilize ovules.
Fertilization:
Pollen must fertilize an ovule to produce a viable seed. This process is called pollination, and is often aided by animals like bees, which fly from flower to flower collecting sweet nectar. As they visit flowers, they spread pollen around, depositing it on some stigmas. After a male's pollen grains have landed on the stigma during fertilization, pollen tubes develop within the style, burrowing down to the ovary, where the sperm fertilizes an ovum (an egg cell), in the ovule. After fertilization, the ovule develops into a seed in the ovary.
Types of Flowers:
Some flowers (called perfect flowers) have both male and female reproductive organs; some flowers (called imperfect flowers) have only male reproductive organs or only female reproductive organs. Some plants have both male and female flowers, while other have males on one plant and females on another. Complete flowers have stamens, a pistil, petals, and sepals. Incomplete flowers lack one of these parts.
Love,
Your flower-crazy friends at Flowerblog